If you're planning a corporate event, why not add that something extra by hiring a photo booth? Show your guests a good time and give them a night they're going to remember.
Perth Premier Photobooths offer the best photo booths for hire in Perth. When it comes to photo booths for corporate events, we've got everything you're looking for. We have a great range of photo booths for hire which are perfect for corporate events of all sizes, themes and budgets.
Why Hire a Photo Booth for Your Corporate Event?
Whether you're planning a staff Christmas party, an End of Financial Year party, a product launch, awards party, fundraiser, team building event, trade show, or a party with clients or the general public; a photo booth will take your event to the next level. A photo booth is a great way to get your guests interacting, bonding and having a good time. A photo booth is also a great way to spread awareness of your brand with our great range of customisable options.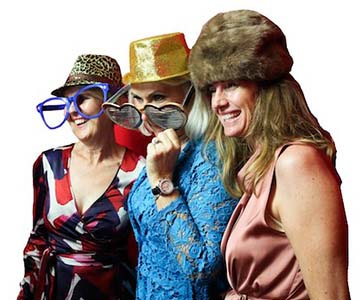 WHY CHOOSE PERTH PREMIER PHOTOBOOTH ?
Why Choose Perth Premier PhotoBooths for your Corporate Event Photo Booth Hire?
We've been in the business of photo booth hire for corporate events for a long time. We'll bring our expertise and experience to provide you with a stress-free service so that you can rest easy knowing your guests are having a good time.
Here are a few more reasons why we're the best choice for your corporate photobooth hire in Perth:
Customisable
Our photo booths can be customised with your theme or corporate branding. This includes customising the backdrop as well as the booth's exterior. Customise the exterior of your photo booth with your corporate branding and use the photo booth to promote your company. You'll be spreading brand awareness all while showing your guests a good time.
Fun
If you want your guests to have a good time, hiring a photo booth is a sure-fire way to make sure they'll be having fun. We can bring along a range of fun props to help your guests break the ice and get involved.
Unlimited sessions
The photo booth is yours to use for the duration of your event. Your guests can take as many photos as they like during this time so no one has to miss out.
Customisable photos
Customise your photo strips with your company name, logo, event details or even a special message. Your guests will walk away with a memento and a reminder of your brand.
Live photos
For even more fun, we can arrange for your photo booth photos to be displayed live throughout your event on a big screen.
Flexible packages
We offer a range of packages to suit all budgets. Whatever your budget, our packages are flexible and can be altered to suit your needs. To find out more or to organise a photobooth package for your corporate event, contact us today.
Reliable
We know how important it is for your corporate event to run smoothly and that's why we'll not only provide you with a high quality, well-maintained photo booth, but also a reliable attendant. Your own personal attendant will arrive early to set your booth up and will stand by all evening to make sure your guests are making the most out of the photo booth. The attendant will pack everything up at the end of the event so that you have nothing to worry about.
Great range to choose from.
We have a range of booths to choose from to suit all different events. Our booths include both enclosed and open booths. Find out more about our range of photo booths here.
Digital copy
We'll provide you with a digital copy of all the photos at the end of your event so you can keep promoting your event on your website or social media.
To find out more or to organise your Perth photobooth hire for your corporate event, click here or give us a call today.
Take your event to the next level with our wide range of backdrops available for hire – or customise your own!

Get your event trending with the use of our Instaprinter! Create an event #hashtag and get your attendees to upload their snaps to Instagram using this. Then take a trip over to our Instaprinter, find their photo and print out their own personalised Polaroid keepsake!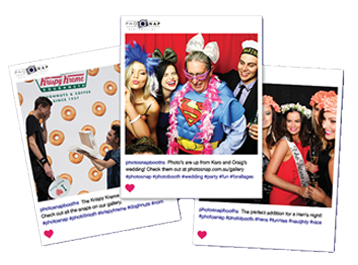 LIGHT UP LETTERS
Get the 'wow' factor at your next event with our giant LED Letters!