No wedding is complete without a Photo Booth, they are truly an excellent way of capturing those funny behind the scene moments that even the sneakiest of photographers can often miss. There is something so special about letting all your guest have fun and provide you with a collection of amusing photos from the big day whilst getting a personal token for themselves to take home too.
Below is a list of 8 Photo Booth essentials that you and your guests will be sure to enjoy…
1. Chalk boards and Speech Bubbles
Allowing your guests to write personal messages on chalk boards and speech bubbles makes the whole experience more interactive and personal.
2. Headwear and Wigs
Funny hats and wigs are an essential prop in any Photo Booth and weddings are no exception. Headwear and afro wigs make your guests look and feel childish, silly and carefree which makes for perfect photos.
3. Glasses, Lips and Moustaches
Another Photo Booth essential which is often provided. You can also make or buy your own custom pieces before the big day to give a more personal touch.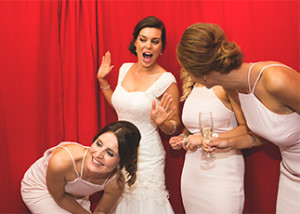 4. Masks
Mask can give even the shyest guests a reason to get into the Photo Booth and strike a pose. Although you may struggle to work out who's who in the photos you can be sure that your guests will enjoy them.
5. Good Lighting
Unlike that of your wedding photos your Photo Booth lighting will most probably be bright, making all the crazy poses and props look great. Having good lighting that flatters your guests is essential as it will give people more confidence to get in front of the lens.
6. Awesome Backdrops
Perth Premier photobooths offer a wide range of backdrops including custom options so you can be sure to find something that is suitable for your big day. When choosing the perfect backdrop for your wedding be sure to choose something that will compliment the overall theme of the rest of the event.
7. Frames
Frames come in a variety of shapes and sizes and look great in Photo Booth photographs. Experiment with different sizes, shapes and colours to create lively, fun photographs.
8. A Guestbook
Getting your guests to add there photo's into a book or album along with a short message is a great way of getting that personalised guest book that you can treasure forever. Here at Perth premier photobooths we also offer digital copies of all of the photos taken at your event as well as optional extras such as photo albums allowing you to keep your memories for years to come.
Whichever items your guests choose to rock in your Photo Booth you can be sure that you'll be left with the coolest wedding photo's ever.