Striking the perfect pose in a photo booth isn't always easy, but following these simple tips will ensure you create a fun strip of photos as a memorable keepsake from your special event.
Know your angles
Be aware of your style and how you photograph, if you have a particular angle or a side you prefer, then use this to your advantage. Pull your shoulders back and look directly into the camera with a big smile, keeping your eyes wide open. If you're going for a full-length photo, place your hands on your hips and angle your body to the side, while looking straight into the camera for a flattering shot. Crossing your ankles slightly will accentuate your legs, as will tilting your head slightly on its side – but not too much! With a perfect posture and a big smile you'll be set for photo success.
3,2,1 SMILE!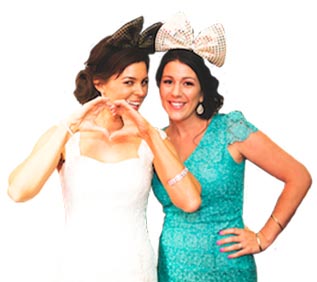 Make sure you're prepared and not caught unawares when the camera goes off. Have an idea of how many photographs you have to work with. If you can control taking the photos yourself, make sure everyone is ready with their pose. If it's automatic, work out how long you have between shots, so you can be ready for the flash. Have a few different poses in mind so you can mix it up between shots and create a variety of fun pics.
If there's a large group of you that need to fit in the photo, practice positioning yourselves in the frame beforehand. This will ensure you all make an appearance, and reduce the risk of someone being unintentionally cut out of the final shot.
And most importantly, have fun!
Photo booths come equipped with a variety of props, from moustaches on sticks, silly hats, large glasses, photo frames and feather boas. If you're going for a silly and outrageous pose, make use of the props to add some colour and brighten up your image.
Take a mixture of fun and serious poses so you have lots to choose from and most of all, have fun! This will reflect in your photos and guarantee you some special memories.